Stat-X Fixed Systems: Thermal/Manual Units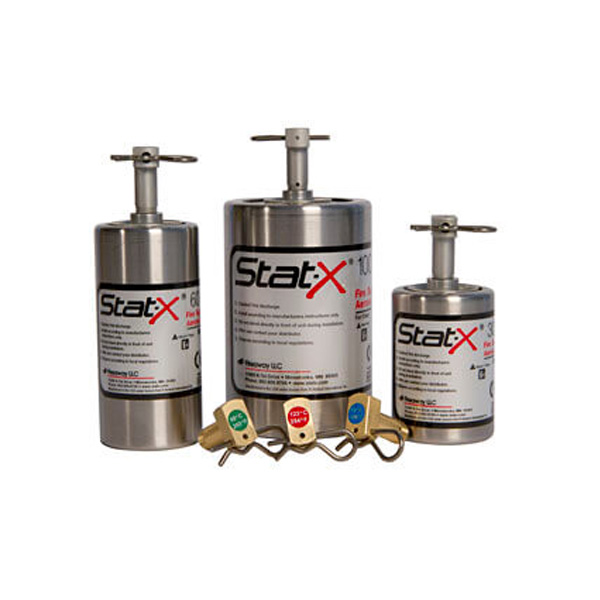 Features
Applications
Operation/Descriptions
Specifications
Approved for normally occupied spaces
Significantly more effective than alternative extinguishing agents
Zero ozone depletion, zero atmospheric life, and insignificant global warming potential
Ease of installation — no pressure vessels, piping, or expensive installation manpower
Very low maintenance
Provides reliable, cost effective protection for a wide range of fire hazards
No power required — activates thermally or manually
Favorably reviewed by EPA for SNAP listing
Approved by CSIRO, ECB, MCA, ABS and many more
Safe for valuable equipment
Post fire clean up — aerosol suspends in air for clean-up and venting after discharge
Compact — up to a 90% reduction in space and weight requirements
Available in the following sizes (see specifications for more details):
— 30 T (30 g aerosol mass)
— 60 T and 60 T long (60 g aerosol mass)
— 100 T (100 g aerosol mass)
— 250 T and 250 MT (250 g aerosol mass)
— 500 T (500 g aerosol mass)
— 1000 MT (1000 g aerosol mass)
Due to their fast response time, low fire extinguishing concentration, and environmental safety, Stat-X fire suppression systems may be used in critical applications across a wide range of industries. Aerosol generators are suitable for use in:
Electrical cabinets and rooms
Switchgear enclosures
Flammable liquid storage
Hazmat storage
Marine engine rooms and machinery spaces
Small boats
High value mobile machinery
In the event of a fire, Stat-X generators can be activated either manually or automatically via the integrated thermal detector.
Upon activation, the generators produce an exceptionally effective, ultra-fine, potassium based aerosol. Unlike gaseous systems, Stat-X aerosol generators are very cost effective to install and maintain — as they do not require the pressure vessels, piping or expensive installation costs associated with other extinguishing systems.
Space and weight requirements are minimal and, in many applications, the small size of the Stat-X aerosol generators makes them the only viable option. On an agent weight basis, Stat-X aerosol is ten times more effective than gaseous agent alternatives.
Fire suppression is rapidly achieved through interference between the ultra-fine aerosol particulate and the flame's free radicals — terminating propagation of the fire.
Stat-X aerosol generators are virtually maintenance free and have a shelf life of over 10 years. This, coupled to their very low installation cost, makes them an extremely cost effective fire protection solution.
Agent Container. The generator housing shall be constructed of exterior and interior stainless steel shells separated by an insulating material. Top and bottom of housing shall be stainless steel and (for electrically activated units) incorporate a 3/4″ NPT fitting to enable direct connection to conduit. Housing shall be sealed with a non-permeable membrane and shall incorporate a mechanical means to insure rupture of the membrane upon activation. Housing shall be non-pressurized prior to system activation.
Finish. Brushed Stainless Steel.
Aerosol Agent. Aerosol generated shall be potassium based and manufacturer shall provide fifteen (15) minute time weighted average data from an independent United States laboratory demonstrating that the aerosol does not produce (at normal design concentrations harmful levels of CO, CO2, and NOx based on NIOSH standards. Shall have no ozone depletion potential and no global warming potential. Agent shall be approved for commercial sale by the US EPA.
Thermal Actuator. Unit shall be activated by means of a thermal actuation device rated 70°C, 95°C, or 123°C. Actuator shall be anodized aluminum or stainless steel and shall be capable of both thermal and/or manual activation.
Operation/Storage Parameters:
Temperature -0° C to +54° C (+32° F to +130° F)
Relative Humidity up to 98% at +35° C (+95° F)
Transportation Classification:
Classification Code: 4.1
UN Identification #: UN 3178
Packaging Group: PGIII
Shipping Limitations:
— Ground: None
— Max. weight per unit packaging — Cargo Air 100 kgs (220 lbs)
— Max. weight per unit packaging — Passenger Air 25 kgs (55 lbs)
General Specifications:
Model
30 T
60 T(long)
100 T
250 T
250 MT
500 T
1000 MT

Aerosol Mass:

grams

30
60
100
250
250
500
1000

Weight: kg

(lbs)

0.3

(0.66)

0.49

(1.1)

0.827

(1.82)

2.48

(5.47)

1.28

(2.83)

3.43

(7.56)

5.54

(12.2)

Length (with actuator):

mm

(inches)

109

(4.3)

115

(6.1)

152

(6)

168

(6.6)

202

(7.95)

218

(8.6)

333

(13.1)

Diameter:

mm

(inches)

51

(2)

51

(2)

76

(3)

127

(5)

76

(3)

127

(5)

127

(5)

Discharge Time:(sec)
8
8.5
11.5
12
18
21
25
Activation Temperature Options

70°C

(158°F)

95°C

(203°F)

123°C

(254°F)