Stat-X First Responder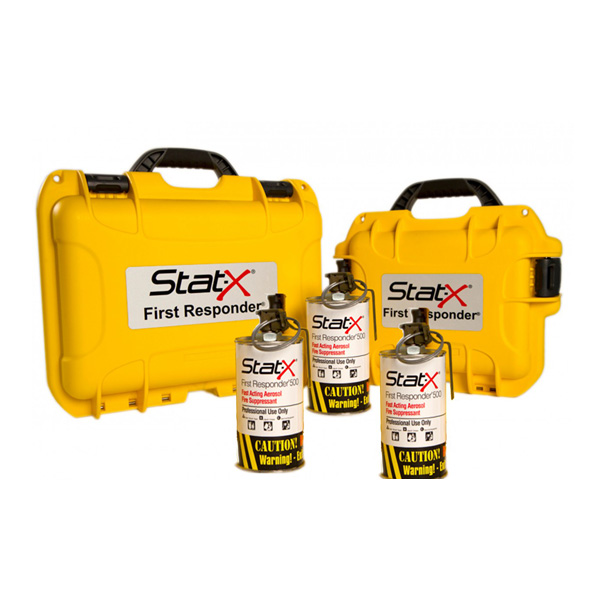 Features
Applications
Operation/Descriptions
Specifications
Coverage Parameters
Offers significant fire "knockdown" and rapid suppression capabilities for enclosed spaces
Zeroozone depletion, zero atmospheric life, and insignificant global warming potential
Favourablyreviewed by EPA for SNAP listing
Safefor fire fighters and any occupants trapped by fire
Nooxygen depletion — suppresses at very low concentrations by interference with free radicals
Provides a reliable, cost effective fire protection tool for a wide range of fire scenarios
Small, compact, and easily portable to point of attack
The Stat-X First Responder is a new and innovative tool designed to aid in the suppression of fires and for use as a personal protection device for fire fighters in emergency egress or entrance situations. It is physically and functionally similar to a smoke grenade — with the major difference that it delivers a highly effective aerosol fire suppression agent — Stat-X.
Typical application scenarios include:
FIRE FIGHTER
Scenario A:Fire fighter arrives at the scene of an early stage fire. After evacuating people and before additional resources arrive at the scene, toss a Stat-X First Responder into the rooms which are involved with the fire. This will buy time for further rescue and for fire fighters to lay hose.
Scenario B:Firefighters are concerned about potential flashover from a fire down a hall and water isn't available yet. Toss a Stat-X First Responder ahead of the firefighters to eliminate many of the contributing factors of a flashover.
Scenario C: A firefighter is trapped or can't get to a victim due to an intense area of fire. Toss a Stat-X First Responder into the flame area for immediate fire suppression.
POLICE
Scenario A:Police arrive at a vehicle fire as a result of an accident. There are occupants trapped in the burning vehicle and the fire department has not yet arrived. Break a window, toss The Stat-X First Responder into the vehicle to knock down the fire and remove the occupants.
Scenario B:SWAT arrives on site and must deploy "flash bangers" into an area to stun criminals. These flash bangers often ignite combustibles. Toss a Stat-X First Responder into the flame area for immediate fire suppression for entry or to suppress fire while awaiting the arrival of the fire department.
Scenario C: Police arrive on the site of a structure (house) fire, in advance of the fire department. Occupants can be seen or heard in the fire area. Deploy The Stat-X First Responder to possibly attempt rescue or at least suppress and hold the fire in check until the fire department arrives.
ENERGY
Scenario A:The worst case — fire erupts in a manhole with worker stuck in the manhole and either incapacitated or unable to escape though the flames. Co-worker immediately deploys Stat-X First Responder and tosses it into the manhole away from the trapped worker. It will suppress/extinguish the fire, buying valuable time for evacuation or power shutdown.
Scenario B: Underground transformer fire, or any below grade enclosed space fire. Just twist and pull the ring, toss Stat-X First Responder in. Deploy another as necessary to suppress/extinguish the fire reducing damage and downtime.
The small size of the Stat-X First Responder makes it easily portable.
In the event of a fire, Stat-X First Responder units are activated by removing the safety clip and pulling the ring pin. The unit can then be thrown near the fire, where it will actuate following a 5 second time delay.
Upon activation, the Stat-X First Responder produces an exceptionally effective, ultra-fine, potassium based aerosol that provides extremely fast knockdown and rapid suppression of fires.
On an agent weight basis, Stat-X aerosol is significantly more effective than other agent alternatives. It does not reduce the oxygen levels. Fire suppression is achieved through interference between the ultra-fine aerosol particulate and the flame's free radicals — terminating propagation of the fire.
The agent will hang in suspension after delivery providing ongoing suppression capabilities.
Container. The unit housing shall be constructed of metal and incorporate insulating/cooling material. Discharge ports for agent release shall be located around the circumference of the housing. Housing shall accept a M228 initiator and shall be non-pressurized prior to system activation.
Initiator. The initiator shall comply with MIL specification DTL9235210 (modified for output charge) and shall be subject to 100% reliability testing by means of X-Ray.
Safety. Units shall incorporate dual safety devices — a crimped safety pin requiring a twist motion prior to pulling the safety pin by means of a ring attachment. The initiator shall incorporate a minimum 4 second delay timer prior to activation.
Aerosol Agent. Aerosol generated shall be potassium based and manufacturer shall provide fifteen (15) minute time weighted average data from an independent United States laboratory demonstrating that the aerosol does not produce (at normal design concentrations harmful levels of CO, CO2, and NOx based on NIOSH standards. Agent shall have no ozone depletion potential and no global warming potential. Agent shall be approved for commercial sale by the US EPA.
Dimensions. Unit shall contain 500 grams of aerosol forming composition and shall be 5.625 inches tall (6.875 including initiator mechanism) with a diameter of 3.188 inches. Total unit weight shall be < 2.7 lbs.
Origin. Units shall be manufactured in the U.S.A.
Operation/Storage Parameters:
Operating Temperature -29° C to +60° C (-20° F to +140° F)
Storage Temperature -40° C to +60° C (-40° F to +140° F)
Relative Humidity up to 98%
Transportation Classification:
Classification Code: 1.4S
UN Identification #: UN 0432
Packaging Group: PGII
Shipping Limitations:
— Ground: None
— Cargo Air: Maximum weight per unit packaging — 100 kgs (220 lbs)
— Passenger Air: Maximum weight per unit packaging — 25 kgs (55 lbs)
General Specifications:
Model
First Responder 500
Aerosol Mass — kg (lbs)
.50 (1.10)
Ship. Wt./unit packaging — kg (lbs)
0.96 (2.12)

Single

Standard 4 Pack

4.31 (9.5)
Length — mm (inches)
142.9 (5.625)

Unit

Unit with actuator

174.6 (6.875)
Diameter — mm (inches)
80.98 (3.188)
Delay Timer (meantime in seconds)
3.5
Discharge Time (seconds)
20.0
Coverage will be dependent on the specific characteristics of the situation encountered — class of fire, level of involvement, areas of potential leakage, etc. Tests have shown significant suppression effects up to an 8 ft high 10 ft x 10 ft room — around 20 cubic meters. More units would be required for a larger volume or spaces with excessive leakage. The aerosol flows and spreads rapidly throughout the volume, in a manner similar to a gas. However, since the aerosol is buoyant, more may be required in a high ceiling situation.
The First Responder is most effective when thrown directly at or near the fire.