Pump Systems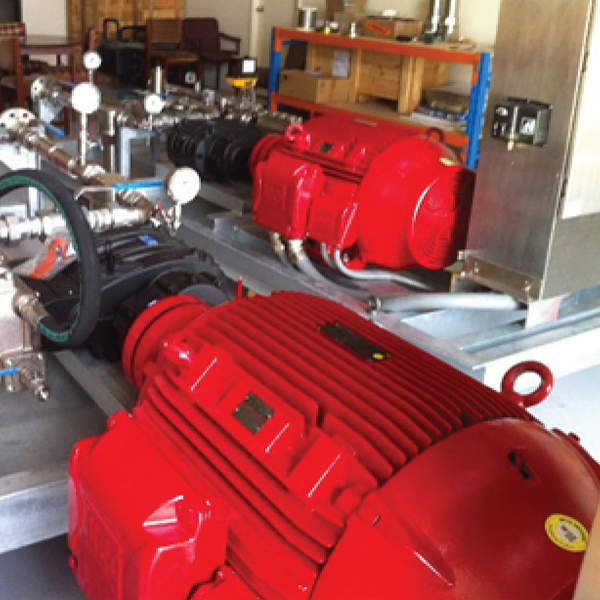 Features
Operation/Descriptions
Heavy-duty designed
Manufactured in accordance with strict Quality Assurance procedures
Offer an extensive range of high-pressure piston pumps to suit any sized project
When more than one pump is supplied on a project, the pumps are manifolded together to deliver the correct quantity of water and pressure under continuous flow
Pumps can automatically or manually started and stopped
High-pressure piston pumps range in sizes, flows from several litres per minute and in excess of 330-litres per minute
FOGEX pump systems comprise either electric high-pressure reciprocating piston pump(s) or diesel high-pressure reciprocating piston pumps. Pneumatic driven pumps are also possible upon request.
High-pressure piston pumps are connected to the water supply and to the stainless steel distribution pipe network that contains the water mist nozzles. Pumped systems are supplied with state-of-the-art PLC pump controllers and a local water mist control panel having automatic and local manual start/stop features. Fire pump skids are supplied complete with all accessories such as pump unloader valves, S/Steel pressure gauges, pressure switches, ammeters, electric (or diesel) motors, high pressure basket inline water filters, non-return valves, manual isolation ball valves, 24VDC section valves, Y-strainers etc all mounted onto a heavy duty Galvanized steel frame with eye lifting lugs and anti-vibration mounts. Pump cabinets are IP65 NEMA-4X rated and can be supplied as explosion proof versions for specific hazards.
Diesel fire pump sets are also supplied with the above accessories including over-speed regulators, batteries and leads, ammeters, local auto start/stop panel, fuel tank, radiators (or cooling loops) for engine cooling, starter motor, drive shafts with safety guards and exhaust manifold.