Pressure Skid Modules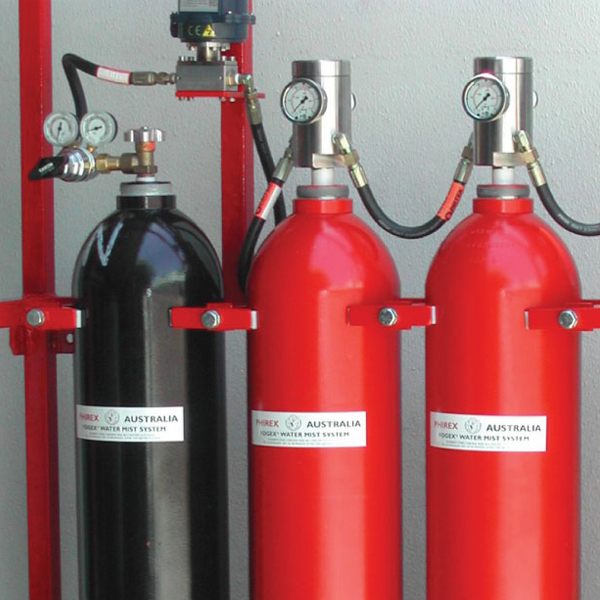 Features
Applications
Operation/Descriptions
FM approved for use in combustion turbines
Machinery spaces
Special hazard machinery spaces up to 500m³
Under FM Approvals the system running time is 18.5 minutes for extra safety and combat ability
FOGEX Pressure Skid Modules can be either stand-alone systems where it is impractical to install a fixed pipe work system, e.g. Diesel generators or combustion turbines located in remote areas. FOGEX Pressure Skid Modules can also be used as a back-up water mist firefighting system or used as a first shot system before the main fire pumps start up, e.g. for use in passenger vessels. 
The FOGEX water mist fire protection system can be supplied as a self-contained Pressure Skid Module (PSM). The quantity of water contained is determined by hydraulic calculations based on type and quantity of nozzles installed and the desired system running time. High-pressure lined steel cylinders are used to avoid the possibility of internal corrosion or discolouration of water. Dry nitrogen gas is used for system pressurisation.
FOGEX PSMs are manufactured and supplied in various sizes and arrangements. PSMs can be supplied "loose" meaning that the water and nitrogen bottles can be bracketed to a nearby wall or they can be supplied in a steel cradle or skid depending on customer preference.
FOGEX stainless steel high-pressure actuator heads complement the PSMs. Pressure gauges, pressure switches, and FOGEX high-pressure 24VDC electric turn actuator ball valves are also supplied and fitted onto the PSM. FOGEX high-pressure stainless steel gas manifolds and regulators may also be supplied, where desired. FOGEX PSM water bottles remain un-pressurised until the system is activated.