Genius H and Genius HX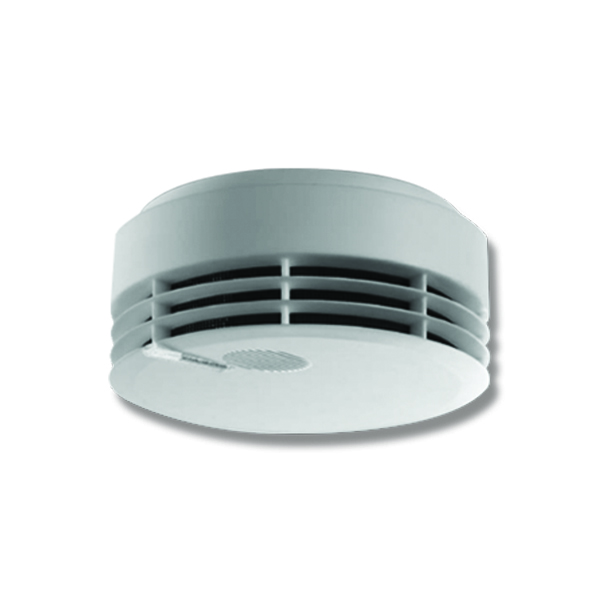 Features
Applications
Operation/Descriptions
Specifications
Permanently fitted 10-year battery 
Real-alarm guarantee 
VdS-approved in compliance with DIN EN14604 
Application in accordance with DIN 14676 
Complies with the requirements of the state building regulations 
Single-hole or two-hole mounting 
Adhesive mounting (VdS-approved) 
Dismantling detection (seal) 
«Battery Low» signal suppressed during night hours 
Alarm memory 
Dirt/dust compensation 
Muting circuit 
Genius Hx: interface for radio module 
Genius Hx: second battery for radio module 
Genius Hx: difficult ambient conditions such as frost-free cellars and attics, stairways
The Genius H and Genius Hx smoke detectors are used for the early detection of smoke in private homes or in buildings used for similar residential purposes. They give people an early warning in case of danger, with the integrated hooter providing an acoustic alarm.
In an emergency the Genius H/Hx initiates a combined audible and optical signal. A unique innovation is the signal tone: different high and low frequencies ensure that the human ear hears the tone.
State-of-the-art smoke detector technology and an optimally designed housing enable the Genius H/Hx to adapt to the ambient temperature and react intuitively to its surroundings. False alarms which may be due to fluctuations in the ambient temperature as well as operation errors are a thing of the past with the Genius H/Hx.
| Genius H/Hx Technical data |   |
| --- | --- |
| G 209178/applied for | VdS device approval for Genius H/Hx |
| 3.6V/2.2 Ah lithium | Power supply, thionyl chloride, permanently fitted |
| Typically 10 years | Battery life |
| Alarm | Frequency-optimised for the human ear |
| 85 dB (A) (3 m) | Sound pressure |
| Day/night detection | Automatic using real-time clock |
| Theft protection/removal detection | Optional, by means of a seal |
| 0 °C to +55 °C | Ambient operating temperature |
| -10 °C to +60 °C | Storage temperature |
| Max. 70% rel. humidity | Ambient condition: continuous humidity, without condensation |
| Automatic adjustment | By means of an integrated temperature sensor |
| IP 40 | Protection glass |
| Ral 9010 | Pure white, similar |
| PC-ABS | Material |
| 48 × 104 mm | Dimensions (H × Ø) |
| 143 g/162 g | Genius H/Genius Hx weight |
| Environmentally compliant disposal | Regulated via EAR |
| Additional technical data for Genius Hx |   |
| --- | --- |
| 3.6 V/2.2 Ah | Power supply: additional battery for external modules, e.g. radio module permanently fitted inside the detector |
| Interface | For communication and power supply of external modules such as Basic or Pro radio module |
| Processor | Larger memory than in the Genius H |
| Event memory | From radio module and smoke detector with time stamp |
| Order data |   |
| --- | --- |
| Genius H | 239 151 |
| Genius Hx | 239 160 |
Accessories
 

Set of adhesive pads for Genius

H/Hx, 10 pads

31-4100001-01-02

Set of adhesive pads for Genius

H/Hx, 100 pads

31-4100001-02-02
Set of seals for Genius H/Hx, 32 seals
31-4100003-01-01